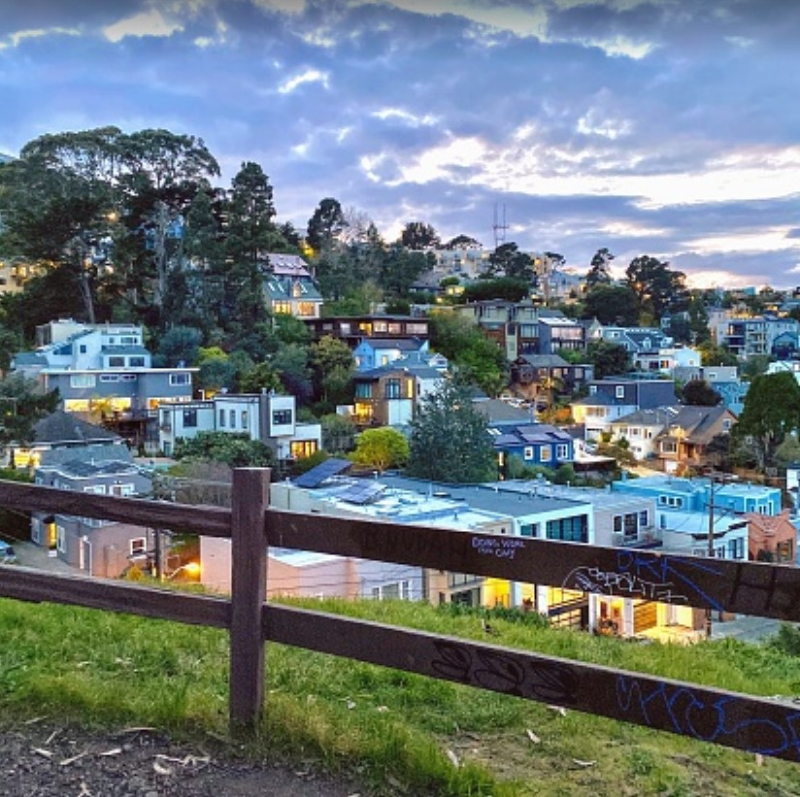 Nestled in the heart of San Francisco, Noe Valley is a family-friendly neighborhood with a picturesque setting complemented by rolling hillsides and tranquil streets lined with independent boutiques and century-old Victorian and Edwardian homes. It is a neighborhood that offers the best of both worlds: a relaxed atmosphere with a sense of remoteness, despite having a central location easily accessible to downtown, Silicon Valley, and many of the finest attractions San Francisco has to offer.
Noe Valley is a superb choice for those seeking a high quality of life in the heart of The Golden City. No other San Francisco neighborhood has a more effortless blend of picturesque scenery, small-town character, close-knit sense of community, and proximity to amenities quite like Noe Valley.
Interested in searching for homes for sale in Noe Valley? On this page, we shine the spotlight on this highly desirable community by giving you a closer look at the lifestyle, the attractions, the real estate options, and all of the things that make Noe Valley an excellent place to call home.
Table of Contents
QUICK FACTS ABOUT NOE VALLEY
Noe Valley is named after Jose de Jesus Noe, the last Mexican mayor of Yerba Buena (the original name of San Francisco). Noe was the holder of the Mexican land grant of the 4,443-acre Rancho San Miguel, which included present-day Noe Valley.

Noe Valley's layout and many of its street names trace their origins to John Meirs Horner, one of California's premier agriculturists and a key figure in San Francisco's early history. To this day, many sections of Noe Valley are known as Horner's Addition for tax purposes by the city assessor.

Most of Noe Valley's development took place between the end of the 18th century and the start of the 19th century, primarily in the years following the San Francisco earthquake of 1906. Because of this timing, many homes in the neighborhood feature classic Edwardian and Victorian architecture, which many associates with vintage San Francisco.

Like many other neighborhoods in San Francisco, Noe Valley was initially a working-class neighborhood for workers employed in the area's once-booming blue-collar economy.

Noe Valley currently has one of the largest concentrations of row houses in San Francisco. Some streets in the neighborhood even have as many as a dozen row houses on the same side.
OVERVIEW OF NOE VALLEY'S REAL ESTATE MARKET
With its scenic environment, charming ambiance, and multitude of attractions, Noe Valley is an excellent choice for homebuyers.
The neighborhood is known for having some of the finest Edwardian and Victorian row houses in San Francisco, making it ideal for buyers seeking a home with intricate period features and a well-designed layout with generously sized living spaces.
Homes in Noe Valley typically sell above asking price on average, and do not stay on the market for long – both of which illustrate how competitive its real estate market is.
Although the neighborhood features a diverse selection of excellent real estate options that can suit nearly any type of requirement or preference, you'll want to work together with an experienced realtor who will help you identify properties that fulfill your unique goals. A lot can happen especially in a highly desirable market like Noe Valley, and you want to avoid missing out on the perfect home that meets your budget.
HOMES FOR SALE IN NOE VALLEY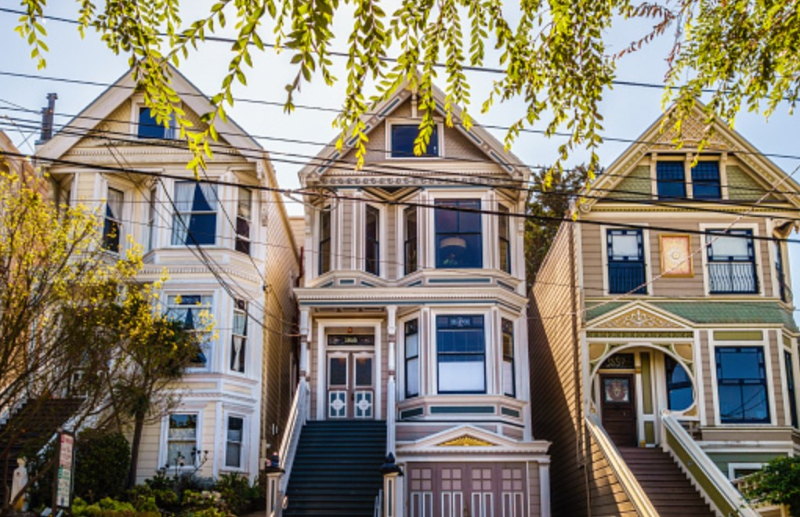 Those interested in homes for sale in Noe Valley will be able to choose from a diverse selection of top-quality real estate options. The highly coveted neighborhood features an enticing mix of stylish cottages, elegant row houses, new construction condos, and luxurious single-family residences. Many properties feature ornate details and beautiful architectural styles including Edwardian, Victorian, and Mediterranean, along with a variety of sleek contemporary styles.
Because of the neighborhood's hilly topography, many homes capture some of the most iconic views of San Francisco, particularly those facing the eastern and southern parts of the city, treating residents to breathtaking panoramic city and bay vistas.
Homes for sale in Noe Valley provide an unsurpassed quality of life and are designed with a seamless blend of privacy, comfort, and livability. Throughout the years, many older homes in the neighborhood have been upgraded and renovated to meet new standards of modern living, while still preserving their original details and architectural grandeur.
Some examples of common features you can find in many homes for sale in Noe Valley include:
Spacious natural light-filled floor plans
Hardwood floors and high ceilings
Interiors opening up to serene, well-maintained yards with lush greenery and mature trees
Elegant formal dining rooms
Exquisite primary bedrooms with spa-like ensuite baths
Stylish kitchens with chef-grade appliances and large center islands
Expansive sun porches, decks, and balconies with magnificent bay and city views
Plenty of storage space
Ready to begin your search for the perfect home in Noe Valley? Start by browsing our Featured Listings.
LIVING IN NOE VALLEY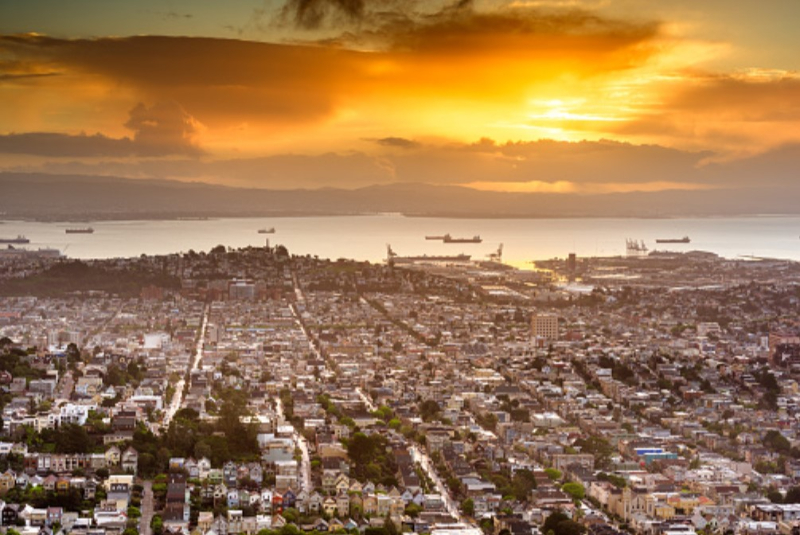 Noe Valley is one of the most coveted neighborhoods in San Francisco due to the exceptional quality of life it offers. Living in Noe Valley places you minutes away from many of San Francisco's top-rated destinations and a diverse mix of unique locally owned boutiques, offering a relaxed and enjoyable lifestyle.
Below are just some of the many reasons that make Noe Valley such a special place to call home:
Prime location
Among the many reasons why Noe Valley is an outstanding place to live is its superb location. Due to its location bounded by hills and within a valley on the southern side of the city, the district tends to be warmer since it is somewhat insulated from the fog and the cold fronts experienced by coastal San Francisco neighborhoods. Watching the fog roll over Mount Sutro and San Francisco Bay in the late afternoon is definitely a sight to behold.
In addition to its picturesque setting, Noe Valley offers quick access to many excellent transit options, and is conveniently located minutes away from downtown San Francisco, the Castro, Mission Dolores, Glen Park, Diamond Heights, and Eureka Valley.
Family-friendly environment
There's a reason why Noe Valley is nicknamed "Stroller Valley." Walk around the neighborhood during the weekend and you'll surely come across many families on their way to the park or their favorite restaurant to grab a bite. Homes in Noe Valley tend to offer more space as well.
Combined with its proximity to top-performing schools and myriad of family-oriented destinations, it's easy to see why the neighborhood has long been a popular choice for families.
Walkability
Like many San Francisco neighborhoods, it's easy to get around Noe Valley on foot. The neighborhood encompasses less than a square mile, and you can walk down the main 24th Street corridor in just 20 minutes at a brisk pace.
While Noe Valley has its fair share of attractions, there are many more to discover nearby – all accessible on foot! First-rate outdoor attractions like the Mount Sutro Open Space Reserve are about a 40-minute walk away, and popular destinations like the world-renowned Castro Theatre and the plethora of bars and nightlife venues along Mission Street are less than a mile away.
Parks and outdoor attractions
One of Noe Valley's most popular outdoor destinations is Douglass Park, a hillside haven overlooking sweeping views of downtown San Francisco. The park's upper terrace features a spacious dog play area, and the lower terrace features several amenities including an athletic field, baseball diamond, tennis and basketball courts, picnic areas, and a playground. Another nearby family-friendly destination is Glen Canyon Park, which features a network of hiking trails, acres of open space, and an expansive recreation center.
For families looking to engage in friendly competition while getting to know other members of the community, the Upper Noe Recreation Center is equipped with various amenities including a playground, a ball field, and tennis and basketball courts.
If you want to take in some of the most beautiful panoramic views of downtown San Francisco and the Bay Area, make your way to the top of Twin Peaks. The two hills tower over 900 feet above sea level and are right at the center of the city, treating visitors to spectacular views stretching all the way from San Francisco Bay to the Pacific Ocean. It's a steep but short hike to get to the summit, but you can make your way to both peaks if you're up for a longer and more challenging hike.
Independent stores
Noe Valley is home to a vibrant array of specialty boutiques, gift shops, bookstores, and other one-of-a-kind local establishments that add to its small-town charm.
Planning to treat yourself to an afternoon of shopping? Here are some of Noe Valley's most notable local establishments:
Dining in Noe Valley
Whether you're catching up with some friends over brunch, celebrating a milestone, or just looking to treat your taste buds, Noe Valley's terrific dining venues are sure to impress even the most discerning foodies.
Check out some of these popular restaurants around the neighborhood:
FIND THE BEST HOMES FOR SALE IN NOE VALLEY TODAY!
Ready to start the search for your dream home in Noe Valley? Work with me, David Cunningham, to find a home that perfectly matches your lifestyle. As a Bay Area native and a top San Francisco Realtor since 1999, you can count on my experience and in-depth knowledge of the local market to ensure a smooth, stress-free search.
Get in touch with me today by calling 415.244.4779 or by sending an email.

Sorry we are experiencing system issues. Please try again.